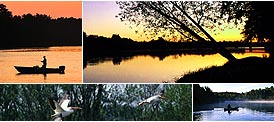 Hunting and Fishing in Ocala National Forest

From the hardwood and pine forests of the panhandle to the cypress swamps of southwest Florida, there is an abundance of hunting opportunities in the Sunshine State. Hunters can try their luck on one of 100 public hunting areas, lease land from a private landowner, or connect with an outfitter who will set up a hunt on land reserved exclusively the outfitter's use.
White-tailed deer and wild hogs are the state's two big game animals. Upland bird hunters can harvest the Osceola race of wild turkeys, northern bobwhites, doves, and snipe while ducks hunters have a variety of species including blue-winged teal, wood ducks, and ringed-necked ducks to aim for. There is an abundance of small game including gray squirrel, rabbit, raccoon, opossum, coyote, nutria, skunk, and beaver. Florida is also one of the few states that has a legal alligator hunting season. Licensing requirements and the seasons, dates and bag limits are extensive so make sure you know when and where it is legal to hunt.
For deer, hog and turkey, the state divides Florida's hunting seasons into three zones. In each zone, there are archery and muzzle-loading only seasons plus a modern antlered deer and wild hog season in which hunters can use any of the legal weapons. Thus, hunters can, depending on location and weapon, hunt deer in Florida from early September until mid January.
This site will provide you with timely articles, tips on how to hunt in Florida, information about hunting on public lands, profiles of public hunting areas, hunting forecasts for the upcoming season and much more.
For those who enjoy the shooting sports - skeet and trap shooting, sporting clays and similar activities, check this site in the months to come. We will be providing you with information about these topics.
Bookmark this page now and check it every week. New information is always being added to the florida-outdoors.com.
If you have any questions, comments or information that you think would be useful to this site, send me an email.