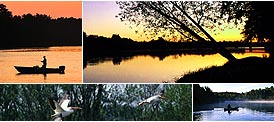 Florida Canoeing and Kayaking
Suggested equipment includes flotation devices (required by law), paddles, a bailer, bow and stern lines, waterproof bags for gear, a tide chart, water (1 gallon / 4 liters per person), long shirt and pants for sun and insect protection, a wide-brimmed hat, shoes that can get wet, sunglasses, sunscreen, and insect repellent.
Tides and winds can significantly affect your canoe trip. Don't overestimate your abilities.