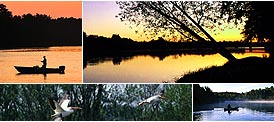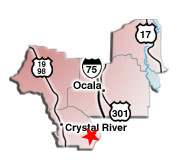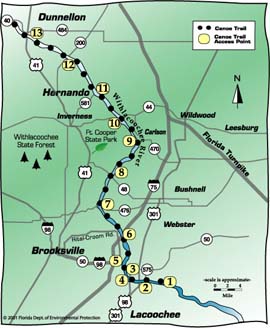 Withlacoochee River Canoe Trail


WITHLACOOCHEE RIVER
The Withlacoochee River Canoe Trail is officially designated as part of Florida's Statewide System of Greenways and Trails. The river flows out of the Green Swamp in west central Florida. The trail twists and bends through the sandhill area as it moves northwest. Hardwood forests with an understory of cabbage palm and saw palmetto border the river. Further downstream the hills disappear as you paddle through lush swampland with cypress, gum and maple adorned with air plants. The overhanging limbs form a lacy canopy. Much of the trail flows through the Withlacoochee State Forest, but there are scattered residential areas along the river. The variety of habitats offers opportunities for nature study. Wildlife is abundant along the river. Deer, turkey, otter and alligator are common. Wood duck, wood stork, white ibis and anhinga can also be seen along the trail. The takeout is at the bridge on US 41 before Lake Rousseau. Camping is available at Silver Lake Recreation Area.
Mileage: 83
Skill Level: Beginner
Difficulty: Easy to Moderate
Usual Current: Average (2-3 mph)
Notes and Precautions
During dry seasons, you may encounter logs or hyacinth jams that require portaging. Be cautious of submerged stumps, especially during low water. Observe posted and no trespassing signs on the lower part of the river.
Access
Coulter Hammock Recreation Area – From US 301, west of Lacoochee, take SR 575 east to Durden Road turn right, go to next stop sign which is Coit Road and turn left. Follow this road 2.5 miles to the river at recreation area.
SR 575 Bridge – 1.2 miles northeast of Lacoochee. (2 miles)
US 301 Bridge – 1.2 miles north of Trilacoochee. (2 miles)
US 98 Bridge – .07 mile north of Trilby. (2 miles)
SR 50 Bridge – Twelve miles east of Brooksville. (6 miles)
Silver Lake Recreation Area – From Brooksville, take SR 50 east one mile to first traffic light, turn left (north). Follow this road (Rital-Croom Road) 3.4 miles to recreation area. (7 miles)
SR 476 Bridge – .25 mile east of Nobleton. (9 miles)
SR 48 Bridge – 8 miles west of I-75, west of Bushnell. (9 miles)
Carlson Landing – From intersection of SR 44 / CR 470, take CR 470 south for approximately 2 miles. Turn right (west) for a little less than .5 mile. At Gator Lodge, turn right (west) and continue to ramp. (11 miles)
SR 44 Bridge – At Rutland, about 6.5 miles east of Inverness. (4 miles)
SR 581 Ramp – From Inverness take US 41 to CR 581 (Ella Avenue). Follow this 7 miles to boat ramp. (6 miles)
SR 200 Bridge – From Hernando take SR 200 north for 6.5 miles to wayside park. (10 miles)
US 41 Bridge – At Dunnellon wayside park. (15 miles)There may be access points (both public and private) in addition to those listed here.
Please remember that some sites require a fee for launching and/or parking.